We don't watch a lot of sports in my house. What we do watch is the Olympics and the Tour de France. The Tour is going on right now and we are happy to watching it this summer. As soon as the Tour is over we head right into the Summer Olympics. So I have been searching the internet for some activities and crafts for us to get us excited for the summer games. I thought I would share some of my finds with you.
I am planning on using the free lapbooks at Homeschoolshare.com. We have NEVER used lapbooks before, but I think that my girl will get really into it. So since it is free it is a good opportunity to try it out. They have two lapbooks printables that you can download. One is a generic Olympic one that can be used for different Olympic games and then they have one that is specific to the Summer Olympics in London. I will let you know how we do with our first lapbook experience.
Crafts and Games
This is one that I am looking forward to. It is a craft and a game. It is made out of paper plates. Those paper plates that are cheap and you cut out the middle. You will also need an empty paper towel roll. Head over to Little Learning for Two to get all the details on how to make this. I will show you ours when we get it done.


This is a must for us. I need to find information on the torch carrying. So I am still in need of how to tie this in for Mickey and Nate. However, if you click on the picture or the heading you can go and get directions on how to make this Olympic Torch.
I found this link to pictures of the flags of the World. I am not sure how we are going to use this but I am brainstorming. What would do you with all these flags pictures.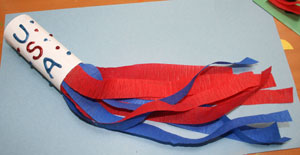 I saw this craft and was going to do it for the Fourth of July. However, I decided that it looked more like a fun cheering instrument than a firework craft. So this is what we are going to use to cheer on our team. I already bought the streamers from the dollar store last week. But for the instructions head on over the link above and let your kids cheer on your team too.
So these are my ideas so far. These will change at some point and I will add others in. I will be sharing our progress and letting you know what worked for us and what didn't. What is your favorite Olympic Sport that you like to watch?